Recycled materials
Nowadays, we are very active with recycling old products and materials. We do this to take care of the environment, but also to create new products made of recycled materials. It is a small and simple step for us that will have a big and positive impact on our world.
RPET
PET is the most common type of plastic, mostly used for packaging and disposable bottles/containers. A large part of the solid waste in the world is attributed to this packaging. The use of recycled PET (RPET) by giving a new life to an already made product in place of virgin resin results in reduced environmental impact.
Recycled stainless steel
Stainless steel is a long-lasting and versatile material that can be recycled indefinitely without losing its properties. Recycling stainless steel requires significantly less energy and fewer resources compared to new stainless steel. This reduces the environmental impact of its production and extends its lifespan.
This recycled material can be transformed into a wide range of new products, such as bottles, tumblers, mugs, and cups. On the inside, these items have the insulation benefits that keep beverages hot or cold, while on the outside they can be coated with different materials, like wood, to create a unique feel and look. With our recycled stainless steel items, you have plenty of options to get inspired and to showcase your brand in style while supporting an eco-friendly lifestyle.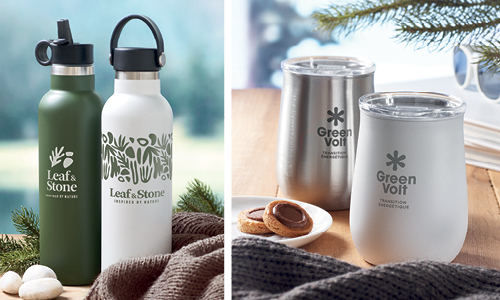 Recycled milk carton
Cartons are a commonly used type of packaging for products such as milk, soup, juice and more. Made up of layers of cardboard, polyethylene and aluminium, the carton packaging has a unique blend of properties that makes them durable and functional.
When recycled, milk cartons can be repurposed into new paper products, such as our milk carton notebooks, pens and memo pads. These conscious stationery items are made of 70% recycled milk carton and 30% recycled paper, making them a perfect opportunity for giving a new life to used paper. Choose our office supplies made of recycled milk carton to help conserve our natural resources and reduce the amount of waste.
Tritan™ Renew
Tritan™ Renew is powered by revolutionary recycling technology that transforms single-use plastic waste into durable materials, offsetting the use of fossil fuels and lowering greenhouse gas emissions.
This innovative material is created through a unique process that breaks down plastic back into its basic chemical building blocks, allowing plastic materials to be recycled again and again. Tritan™ Renew is free of BPA, BPS and BPF chemicals making it suitable for contact with food. It is also odour and taste resistant, highly durable and dishwasher safe. In other words, it is made to last.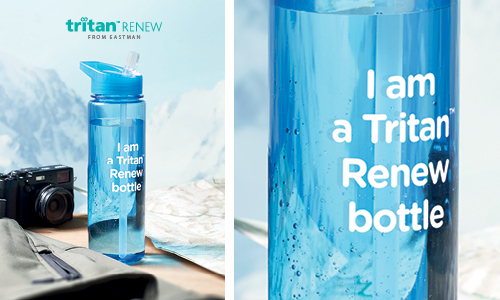 Felt collection
The ever popular items made of felt and now in combination with Recycled PET fibres maintains the robust look but additionally contributes to a more sustainable promotion.
Recycled fabrics
Recycled fabrics is made from waste fabrics (any textiles). Collected textile solid wastes are reprocessed to fibre and than back to fabrics for further re-production of bags, garments or linnen. Most of the manufacturers work with two streams : pre-consumer waste (scrap from production) and post-consumer waste (used textiles collected). The color segregation occurs during the process to avoid as much as possible the re-dyeing of the fabric.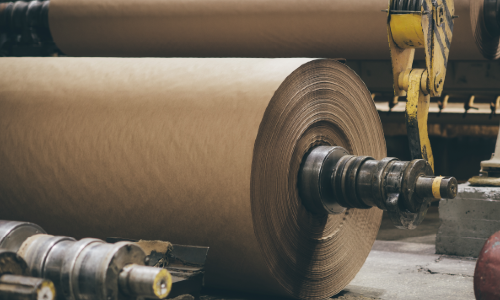 Recycled paper
We have introduced a new range of paper products. The same items you already know and love, made with sustainability in mind. This is only one of many ways we are adapting to help the ecosystem. Did you know the average tree can be used to produce over 8,000 pieces of paper?
Once the paper is sorted, it is processed into usable raw materials which we mold into convenient items.
Recycled ABS plastic
ABS plastic (Acrylonitrile-butadiene-styrene) is 100% recyclable. ABS is assigned the number 7 recycling code. It is clubbed with "Other Plastics" on number 7 group. The process of recycling is simple and similar to the recycling method of PET.
Once the recycled ABS has been fully reformed, it is ready to be re-used. ABS can be recycled for 2 or more times.