High service level
As your one-stop solution provider in the promotional industry, we offer you consistently high service levels that can help you and your clients stand out. Promotional products are an extremely cost-effective way to promote a brand or spread a message that deliver a high return on the investment made. We do everything to assist you in the creation of the best promotional products to perfectly reflect the message being displayed. Our extensive and innovate product portfolio caters for all your customers' needs.
We have an innovative portfolio
midocean offers you a highly diversified product assortment that is refreshed continuously following the latest trends and demands of the market. In addition to the annual more than gifts and our End of Year collection, we launch mid-season items to stimulate additional interest and satisfy the need for regular new item launches. Our product development team is constantly on the lookout for new and innovative items whether it be the functionality or the material they are made from. In total we introduce over 400 new products per year.
We offer the perfect personalised gift
midocean offers the most advanced printing capabilities in terms of product decoration options as well as unbeatable turnaround times and stock levels. Our print lead times are such that we are able to work with you to meet even the most demanding of deadlines. We offer far more than just our European stock range, take personalisation to the next level and create unique products with our yourChoice made to order program.
We are easily and always accessible
midocean has knowledgeable, local and native speaking customer care teams to support all your questions and orders. Our web shop application is state-of-the-art and continuously improving to stay ahead in the industry for the best possible online experience. We share information openly and broadly to make it easily accessible for all.
We strive to inspire
midocean offers inspirational and easy-to-use tools to support our resellers in their presentation towards the industry. Whether it's a fully digital catalogue, a personalised campaign, other marketing tools or an API to connect your own web shop, we give our full support where needed. We are curious, have courage and show our passion in everything we do.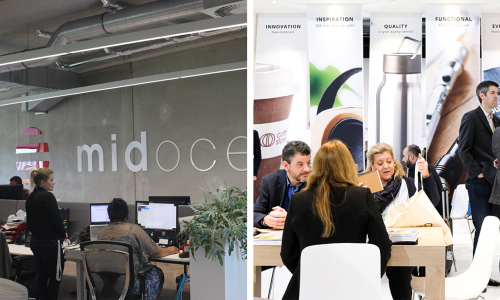 We take our responsibilities seriously
midocean is focused on item functionality, compliance and sustainability, embracing the environmental, social and safety aspects of the range we offer. Select midocean as your supply partner when you want to create conscious promotions. Our collection, manufacturers we work with and our own print facility are proven compliant to all relevant EU regulations and Amfori audited.
We are a reliable partner
midocean has a responsible and consistent market approach to support our resellers in the development of a long term business relationship. Every day we work hard to keep the promises we make and to ensure our resellers can count on us, in every way possible.
Making it easy ... to stand out